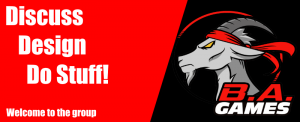 Hello everyone, this is Dave and I'm here to explain some changes happening now and the near future for our social media. As the community manager for B.A. Games, it's my job to try to make a stronger connection with our fans, followers, and friends. Our vision for the current Cult of the Deep group is to take it further than Cult of the Deep. I would like to announce the B.A Gaming Group; a group for everything tabletop. From RPGs, board games, card games, tabletop mini's and anything else that you play on the table. We would like to see this gaming group help build community and enthusiasm for our little corner of the wider industry. Whether you are a content creator, Kickstarter backer, or just someone with a love for games, we want to be included to help build a friendly community. There will be some changes to the current page that I will outline below. 
Rules 
– Discuss, Design, Do Stuff! 
Our three missions of the B.A. Gaming Group are to have discussions, design, and "doing stuff" everything "tabletop": board games, RPGs, tabletop mini's and anything else! 
– Be Kind 
We are all here to express a love of everything "tabletop," so be kind to others; it's a small world and an even smaller community. 
– Be Civil and Supportive 
Please be civil and supportive. Discussion is allowed but disagreements of opinion should not become arguments. Be supportive of creators and posters and show your enthusiasm for the hobby! 
– Stick to the Topic 
Discuss the topic at hand, refrain from political/religious/controversial topics. Some days of the week may have posts that have a variety of topics. You can check our featured posts to see our posting schedule. This community is not the place to have political discourse. 
– No Spamming 
Do not post spam or repetitive links. 
– Self-Promotion Contained to Appropriate Posts 
There will be regular posts that will open the opportunity to allow for self-promotion and content sharing; self-promotion outside of this post will be taken down. 
– Feedback Welcome
If you have a suggestion that will make the B.A. Gaming Group more inclusive, engaging, or better in any way, feel free to send a DM to David Stockton or any of the other admins. 
– What Our Vision Is 
Our vision is to create a fun and friendly community where we can really interact and create a platform for everyone to share their love for board games.  
Event Schedules 
We will be having weekly posts that will happen on the following days: 
Monday – Monday Night Mini's: mini painting session with Sam or Ed on our Discord Channel. 
Thursday – Blog Post: A weekly blog post about board game design or tabletop adjacent. 
Also Thursday – Board Game Night: Come play a board game on Tabletop Simulator in our Discord.
Saturday – Do Stuff! Saturday: Under a weekly post feel free to share something you have done or have enjoyed tabletop related. 
We will also be adding Events to our Facebook event calendar that B.A. Games will be attending like conventions or other related events.  
In addition to weekly posts, we will be making more regular posts and we would love to have everyone else make posts as well. Anything from questions, photos, games you have played, or just anything related to the tabletop hobby. There will be a few changes here and there, stay tuned for those. We are excited to get to know more of you through social media and look forward to seeing some of your favorite games and enjoying the hobby with others.