Sam "King of the Hilltop"
I first met Mik, Starla, and Grant briefly while at a small game day for Nuke-con. It was called Nuke-con Aftershock. They came in with some filming equipment which of course peaked my interest, "Who are they? Are they a reviewer? Were they hired to film part of the convention? Is that their son or employee?" They were going around the room talking to people and when they walked by our demo, they asked who the creator was and if I had time for a few questions after the demo. Sure! Yes! Totally!
After the demo, I went up and they were curious about the game but after going over it I could tell Starla was not a fan, not at all. But Grant had a look in his eyes, he totally wanted to play a game. Even though Mik and Starla were not interested they were still super nice and asked follow-up questions and were just nice people. Before they left, Grant came up to me and said, "I want to play but I have to go, when can we do this." I mentioned some future local conventions and then they left with a smile and a wave.
Fast forward a few months and we would meet again, this time at the Great Plains Game Festival. We did a lot of demos those days but I remember on day one, Grant came right up to the table and asked where the sign-up sheets were because he wanted a game. He still remembered us from months ago. Well, I am happy to report that we had our game and it was a blast! Mik and Starla came by later and said hi and again they were super kind. It was a great convention but even more importantly it was meeting great people like Our Family Plays Games.
They were kind enough to write a little piece about how they started their channel and so, without further ado, Our Family Plays Games!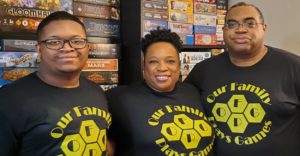 ***
By Starla
Playing board games is something me and my family have done all our lives. Growing up, both me and my husband had similar experiences with board games. We were weaned on the "classics", i.e. Monopoly, Sorry, Clue, Life, etc… Once we became parents, we introduced board games to our son and found that nothing had changed. The games we played as kids, over 30 years ago, were still on the market and still being sold as quintessential games for families. In our disappointment, or should I say frustration, that there seemed to be stagnation in board games, my husband (Mik) took to the Internet to look for something else, because he knew there had to be more to this hobby than what we were finding and that's when he stumbled upon "modern" board games. Once he put Settlers of Catan on the table, our minds were blown! There was no turning back for us. We forged straight ahead and discovered a world that our friends and family had never even heard of.
We are the type of people that when we find something we like; we "jump in with both feet" so to speak and that is how it all started. To give credit where credit is due, Mik is the real reason we are so deep into this hobby. He is the research guy. He took the time to find more games for us to play. He found meet-ups where we could go and learn new games. From there we learned about local gaming cons and just how big this hobby really is. Even though it is considered a niche hobby, this niche has millions of active participants. So now, we had found our niche too. We have always loved doing things together as a family and this hobby helps us do just that. Since getting into this, we have participated in local cons, made new friends, and amassed a board game collection that is bigger than I would have ever imagined. No one in my family has ever had more than 5 or 10 board games at any given time, so for us to have almost 300, is remarkable…even to us, and to some, a collection this size may seem a little crazy. Yes, in our family, the board games are taking over, but we are glad to let them do it. Game night at our home has gone from "what are we going to play" to having to vote on which games will make our top 5 list and finally make it to the table that night.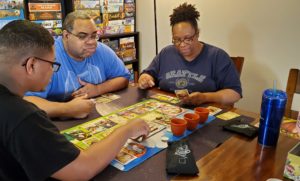 After spending about 5 years in the hobby, we decided to get even more involved. We noticed a lack of diversity and families when we would attend board game events. We would show up and be the only persons of color at an event and our son would be the only young person in his age group. It got to a point where he didn't want to go with us to events because he knew there would be no kids for him to hang out with. We saw these issues as problems that with a little effort we could fix, or at the very least, improve. We knew that other families and people of color would come to these events…if they knew they existed. So that is when the light bulb when off. We'll start posting on social media, showing the games we play and the joy we have and maybe that will encourage more people to join us. So in 2018 we did just that, and decided to call the page – Our Family Plays Games – because that name summed up what we were about and what we wanted others to do: play games with their family and hopefully with our family if we saw them at a board game event. Our social media presence gave us a voice in the hobby, albeit a small one as we were only focused on our home city, Houston, Texas. For about a year and a half, we saw slow but steady growth in followers on Facebook and Instagram. Having this growing identity on social media led to an invitation to be contributors to The Spiel, a podcast where we could talk about bringing more diversity and families to the hobby.
After moving to Omaha, Nebraska, in the Summer of 2019, we immediately got involved in the local board game culture. One of the first places we visited upon our arrival was Spielbound, a popular board game café located in downtown Omaha. From there we attended various board game events, in and around Omaha. Each event helped us get more involved in the Omaha board game scene. With each event we attended, we made new friends and new connections. Being part of the board game hobby has made our transition from Houston to Omaha a pleasant one.
As we moved forward in this hobby, we knew we had to do more to help others get involved so they too could experience the joy we get from board games. So, the next logical step was to increase our presence in the hobby so we could have a greater impact. That's why we started our YouTube channel in January 2020. YouTube would allow others to see our family in action, hear about our experiences, and hopefully be encouraged to join us in the hobby. Little did we know what an impact we would make. We're as surprised as everyone else that so many people would appreciate our contribution to the hobby and when Good Morning America contacted us, we were in shock. Who knew that just sharing our passion for board games on YouTube would get us featured on GMA? When Michael Strahan called us "the first family of board games" all we could do was smile and hold back the tears of joy. No, we know we're not "the first family of board games" but when Michael Strahan says it on national television, you just know you're doing something right. If you are passionate about something and you put in time and effort, success will soon follow. We are happy we are making a positive difference in this ever-growing hobby. As for the future, we just want to keep doing what we can to make this hobby accessible to anyone and everyone who wants to participate in it.
***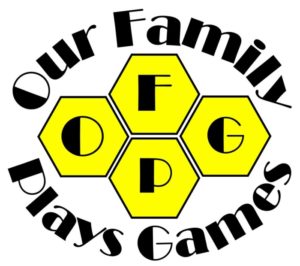 You can follow Our Family Plays Games on:
For those who want to watch the Good Morning America segment.