Learning From ChallengesSam "King of the Hilltop"
It's been a fun ride so far in the startup board game world. We have met so many awesome people and like every opportunity, there are mountains to climb and holes to fall into. We have had our share and thought I would share two with you today.
Spending Time With People Develops Loyalty
We are a small board game publisher. We have no games to our name or any sort of reputation as of yet. Why would someone want to buy a game from us or even help support us online? For some, the answer is that some people are just kind and helpful. However, a large portion of the support I am starting to see comes from people who are invested in the game and/or the publisher.
When I say invested, what I mean is people who have spent time with me, my brother, the product, time chatting after playtests, as well as just hanging out. Like I mentioned in the beginning, we have met some amazing people and to see their support, just gives me a huge sense of gratitude for those people. I try to show that gratitude by creating content for them, spending time writing newsletters, keeping them updated, inviting them to playtests, and even just chatting online. The more time we spend together, the more moments we have, the more invested we become.
This investment is a two way street though. As a publisher, and now friend, I have become invested in their well-being as well. This gets more and more challenging as a company grows in size and scale but if you ask anyone in the industry, what is one of the things you look forward to when going to a convention, connecting with people is almost always the answer. Those people who were there from the beginning, meeting fans of the game, connecting with others who helped support you, and get you where you are.
So, if you want people to follow you, buy your game, or support the game in other ways, you need to support them. Communicate with them. Spend time with them. It's tough as a new publisher because we have plans, ideas, and all manner of things we want to create but in the end, it's about people.
Meeting Minimum Requirements
When you first start a business or design a product, I would recommend looking at the market around you. You would be surprised who doesn't. I don't mean just play a bunch of games, but look at the communities centered around the market. Look at how business and marketing is done. Take note of all these things and you start to get an idea of what the minimum requirements are to enter a market. Do you need to connect on Facebook, Twitter, or is the industry more on Reddit? What kind of online presence do you need? Websites? Engagement? What stage should the product be in? What is expected? These are all questions that inform you, what do I need to do to at least compete in the marketplace successfully?
There are exceptions to the rule, but it is exactly that, those are exceptions. Plus, the market can change quickly so keep that in mind as you try to keep up. You can definitely see this in Kickstarter. The "right way" of doing things is constantly changing and I still remember the days of Early Birds but now seeing one of those just gives me the "yeah, I am not backing this" vibe. Some people feel differently but there is a reason why you don't see it much anymore, the market has shifted in what it wants and how it wants it.
This applies to board game design as well. Games change over time and some mechanics need updating compared to the decades past. There will always be a spot for certain games, and there are a lot of good games that are older. However, people change, markets pivot, and time goes on. People have different expectations from a game now then they did in times past. We always wanted entertainment, but how that entertainment is executed looks a bit different now. Keep tabs on trends and games and you can start to see the evolution.
Thank You
Just wanted to take a moment and say thank you to all those who have helped us get where we are. We are small but it's been an awesome journey and we have grown quite a bit from just a few people talking in a hotel lobby after GenCon. Thank you. Thank you for your support and we will do our very best to make you proud.
My brother is going to talk about our website in a sec and I just want to say that this is another milestone for us. Thank you for supporting us and letting us know that we have something here. Because of that support, we have updated our website to be faster and just all around cooler. If no one came to our website or read our blog, this wouldn't have happened. So, thank you.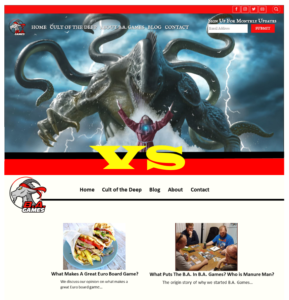 New Website vs Old Website
So Proud
Ed "Duke of BAZlandia"
When creating the website for B.A. Games, I have never been so proud of something that while functional and did its job, was not a site to behold (yes, I know I did it again). This was one of the first things I did for the company. Sam, as most people could probably guess, is the smart and more responsible one. I, however, am just the other guy. When we started doing this we had bought and reserved the domain and social media shortly after GenCon 2019. We started things rolling and even started having weekly business meetings.
We had developed a timeline for starting but were still playing with timelines for Kickstarter release. We were rolling into December and if we were going to hit that Jan/Feb timeline for a website and blog it had to get done. Luckily, I had some time off from work and started doing a website.
I have never done a website before. I had heard WordPress was easy (sure it's easy, doesn't mean it's easy to get a good end product…) I think you can even see on my Twitter feed somewhere near the beginning of me mentioning working on it. Yeah, it was rough. It was a slog. Everything was just easy to implement except for the things I wanted to do or have a certain way. Those things either cost money or involve coding, etc. I am not a coding guy, computer language guy, or any of those things. It did get done and we started posting our blog.
I am grateful that it was done the cheap and "easy" way initially. It allowed us to have our hands in it. Appreciate the work that goes into a website. It drove several discussions on company presentation. It also allowed my Sam to be right yet again and to learn that me being cheap and miserly isn't always a good thing.
So what does this post have to do with board games you might ask? Well, not much to be honest, but that's ok. Not everything dealing with publishing and even designing board games is about board games. If you stop and think about it, even being a designer, and you don't plan on publishing, your main job may be to design but you have a bunch of other things that in many ways are more important such as public speaking and presentation skills, advertising your game or services, building relationships in the community (aka networking), selling yourself along with your design. I think if I was trying to be a designer I would even have a website, even if it was to possibly showcase my successes, tease offerings, and blog about ideas, concepts, and some of what you are working on.
In the end these are all skills that must be developed and like WordPress, for some it's easy, for others it's not. You just need to sit down, get started, and do your best, even if you end up hiring someone to do it for you down the road because like G.I. Joe said, "Starting is half the Battle!"