Sam "King of the Hilltop"
There are so many different board games, types of board games, and themes that it can be overwhelming. What game should you play? Which game should you purchase? This looks awesome but how does it play? This game looks kind of lame but people say it's good.
So many different ways to try and make decisions on what board game to play or purchase. It can be based on personal experience, recommendations from friends or a trusted reviewer, the artwork, the mechanics in the game, or even something else entirely.
However, one thing usually stands out over everything else when browsing a convention hall or social media – the presentation of the game.
What do you mean by presentation?
I am referring specifically to the look and feel of the game. By their very nature, board games are narratives. A narrative being defined as "a spoken or written account of connected events; a story." This is 100% what a board game is. A narrative that is told between players as they navigate a system of interactions. In essence, a choose your own adventure story.
People make choices about games all the time based on their looks, and they are not wrong to do so. So, let's break down the different parts of a board game's presentation.
#1) Theme Imagery
This tells the player or customer what the overall feeling or emotion the game is trying to project. You show a game with trading in the Mediterranean, you can likely guess what kind of game it is. If you show a game with aliens attacking a bunch of super muscled soldiers, I think you can guess pretty accurately what the game is about.
But what about a game like Wingspan with a bird flying on the front? How is that going to help you guess what the game is like? Well, let's break it down.
Bird on front in an art style similar to that of older field manuals and guides – maybe something to do with collecting or matching?
Light pastel colors – thinking something more friendly and possibly even relaxing?
In terms of imagery, Wingspan is very light with its approach but that is also why it works so well. It matches the play style of the game. When I pull out Wingspan, it plays how it looks. Nice, light, and appealing to my inner birder with a large variety of winged friends to play with.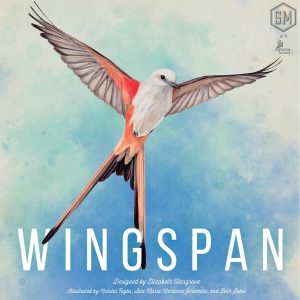 #2) User Interface
How will a player know what to do? How can they quickly process all of the information provided to them in a game and then make calculated decisions in order to try and win a game? It all comes down to how the game is showing you how to play, where to look for information, and tell you what things are important.
This is where good thematic artwork can really help you learn to play. Now, this does not mean complicated graphics or extravagant boards. Many times, simpler is better, especially if you can tell a story. I personally think a good example of this is Tiny Towns by AEG.
Each player board is a simple grid that is covered in grass. It's literally that simple. You have resources and buildings that go onto that grid, with a series of cards that tell you how to put resources together on that grid to build those buildings. It is really quite simple and people pick up on it very quickly. It's easy to understand the right way to play the game. You are building a Tiny Town! Now, learning the best way to win and beat your opponents…that's a different story.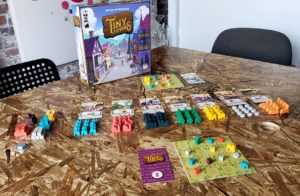 #3) Table Presence of Game Components
We are a very visual and tactile species. We create, organize, re-arrange, and modify things things just so it looks or feels better. You don't believe me? Just post on social media asking to see people's game shelves. Some will be messy arrangements but you will see quite a few with color coordination, size variation, and aesthetically pleasing organization.
You can also try asking a question about people's favorite board game components. There will be many responses about hefty poker chips, metal coins, and chonky dice. Or maybe it's the little eggs from Wingspan or the berries from Everdell.
Look at Kickstarter. How many people spring for Deluxe Editions of games with miniatures or special components that serve the same purpose as other pieces, but have a heftier weight or a better visual appearance?
Having a game that is as fun to play with as it is to play is all part of table presence. Looking at how a game presents itself to its players in order to tell a story or share what an experience is going to be like.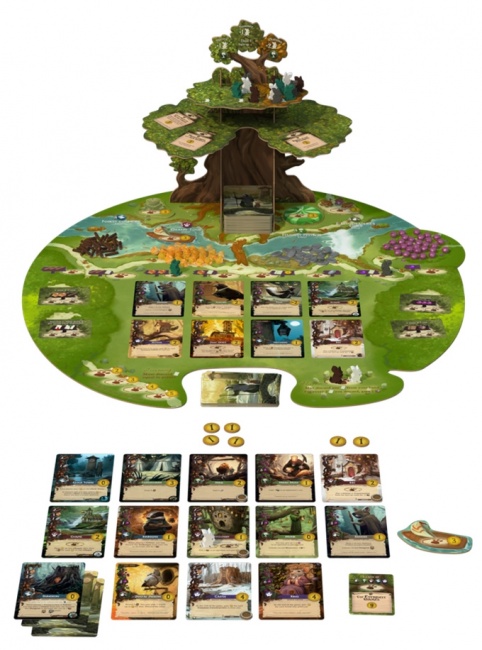 Why is this important?
All of these design choices play a vital role in the narrative a player experiences when they play a game. It's crucial. Now, not all games pay as much attention to these attributes. That can actually work for them as it signals to players what kind of game it is. A board game with dozens of charts, graphs, and numbers with a very limited visual aesthetic is a beacon for some gamers. I personally know a few. They love these types of games! It promises number crunching, probabilities, and well thought out decisions. They can't get enough of it!
So, is it wrong to judge a board game by its looks? I don't think so. In fact, I highly encourage it.
What do you think? How important to you is the visual or tactile experience of a board game? Do you have a favorite board game that you find visually appealing?
What Your Tastes In Board Games Says About You
Ed "Duke of BAzlandia"
When you discuss board gaming with another hobbyist, the inevitable question of what board games do you like or, how I phrase it, what are your tastes in board games? What is your flavor of choice? I find it definitely applicable that we use a word that normally used when referencing food. I have heard some descriptions of a new game described to me almost as a recipe. Well if you were to take this from X and that from Y and then add in a little of Z etc. The point is like food, presentation of a game is very important to some people. I personally have not cared much about food presentation. I am also not one to ask about food as I would eat at Taco Bell everyday if given the option, but there are people who the presentation of food is very important and the same goes for mixing food on a plate, for some foods shall not touch, end of story.
As my brother discussed – presentation – it is important to understand what people's reaction may be. A great of example of this is Food Chain Magnate. Sadly I have not had an opportunity to play this but it is supposed to be a great game. I have heard people rave about how good it is and how wonderful its design is. The problems come into play with the presentation. I know people who simply refuse to play the game due to what they consider its "ugliness" or the "I just can't stand to look at it". Some people are upset that you wouldn't play a game solely on how it looks but I know people who won't eat Taco Bell based on how it looks. In something similar but different I can look at a fancy plate from a fancy restaurant and think to myself "Man, that looks good," but I would never go out and pay that much for the food.
I will keep it short and sweet this week and get right to the point. The point is some people judge a game based on how it looks and will not try, let alone play, a game if they don't like how it looks. That is ok. Everyone has their quirks and things they like and don't like. Something to keep in mind with designing a game, if you want to appeal to and reach the most people, then considering how it looks and how it is presented is vital.
Despite the old saying "Don't judge a book by its cover," people always will.