Sam "King of the Hilltop"
"If you fail to plan, you plan to fail." – Attributed to Benjamin Franklin
Whether you are creating a board game, preparing to launch on Kickstarter, providing art direction for a game, writing a blog, or starting a business, you need a plan. It's not easy. After today though, I hope to provide you some tools that have helped us along the way.
When I helped found this company and really focused on developing our board game, Cult of the Deep, a friend told me that I couldn't do it all by myself. I would need to find others who can help me to fill in my weak spots. This could be help with planning, finances, marketing, art, conventions, rules writing, playtesting, negotiating, scheduling, and the list goes on. There are so many things that need to be done to develop or publish a board game, it is impossible to do it all equally well by yourself. That's why you need a plan and you need help in the areas where you are weak.
This will be a series where we tackle the issues of board game development and publishing while we are going through the process. So this week, let's talk planning. This will assume you have already started to develop a board game that you think has potential.
Part 1 Questions:
How is your game going to make money? It's hard to predict how many copies of a game will sell or who is going to buy your game, especially when you are just starting out on this journey. However, you need to plan for success. How is your game going to get across the finish line? Is it going to be on Kickstarter? What theme does the game use? How much money do those games make on Kickstarter? Does it use a popular game mechanic? Who buys those kinds of games?
The key here is not necessarily how you change your game, but where does your game fit in the market. If you are selling your game, this allows you to target certain publishers who are either in that market or are looking into that market. If you are going to self-publish, this allows you to get a general feel of how many people are in that market and how much you can expect in return.
Part 1 Solutions:
Write down the answers to these questions. That is a good basic plan. It doesn't need to be fancy and you will likely add to it as your game progresses, but it's a great starting point. Jamey Stegmaier wrote a post about the 5-minute business plan (see link section below). He confesses that he didn't plan, but I argue that he did. Having a vision for the game is a plan. I personally like to have more concrete answers than that, but a vision of how the game will play, and how it will be published is all part of a plan.
Part 2 Questions:
Once I know the vision for my game, how do I go about actually doing it? In what order do I need to accomplish the hundreds of tasks? How much time is it going to take?
Part 2 Solutions:
Research! Just by you reading this, you are starting the planning process for your game. Information is a large part of planning and making sure your work is effective. Now, I hear the mantras of just get it on the table and this is still true. Create that game. Get some of it or even all of it out on the table! However, during that time you need to be planning your next move or even 5 moves ahead. This will make sure you are effectively using your time and will help you prioritize what needs to be done. Nothing is worse than doing a ton of work, only to have to redo it when just a little bit of research could have saved you all that time. Time that could have been used to further improve your game or get a jump on the next phase of your board game journey.
To help that research process, I will link a few James Mathe articles below that are very excellent reads but also a timeline for Kickstarter development that I have found to be very useful. Thanks must go again to Rachael Blaske of Five24 Labs and the Mint Series of Games for sending this to me and letting me post it!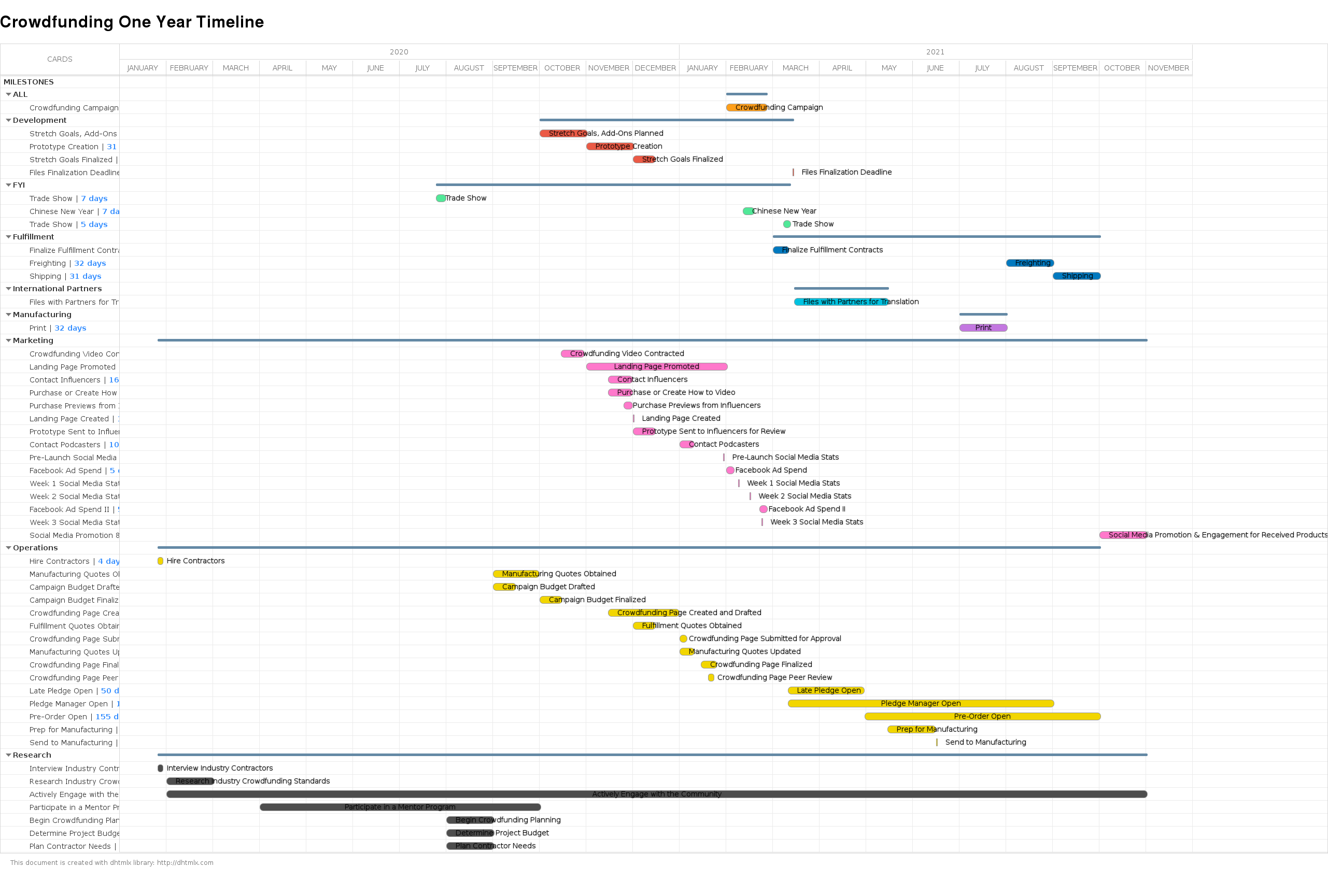 Now for the most important part! Go and do it! "Success is when opportunity meets preparation."
Links:
http://www.jamesmathe.com/checklist/
http://www.jamesmathe.com/dont-panic-know-your-ready-to-launch/
http://www.jamesmathe.com/so-you-want-to-be-a-tabletop-game-designer/
Also, special thank you to Rachael Blaske of Five24 Labs.
Check out their Mint Series Games at: https://mintseries.com/
No Plan is an Island
Ed "Duke of BAzlandia"
A great plan is only that, a great plan. It must be coupled with several things to actually happen. This is why just like a man, no plan is an island. After you have a plan one of the most important things is to attach real actions to that plan and follow through. Below is a few things I believe are necessary to attach actions to your plan.
Write the plan down and the dates associated with each part of the plan. This can be done on the plan, kept as a list, put on a calendar, or whatever form makes sense to you. The important part is it's written down and you're able to measure your plan's progress.
Identify and have an accountability partner. You need someone who is willing to hold you accountable. This person does not have to be involved in the project with you but at the very least must be interested in helping you accomplish your goals. There has to be an understanding between you that they will be asking hard questions and expecting real and truthful answers. When deadlines are busted there should be a honest and truthful discussion about what went right, and what went wrong. Also, when there is success, whether big or small, there should be encouragement and shared celebration in a task completed.
Take actual actions small or big, it doesn't matter which, just do it.
Change the plan. You should periodically take some time to reevaluate your plan. Spefically when you accomplish major milestones, something has gone wrong, or when deadlines are busted. Take the time to identify what you are trying to accomplish and if there are problems or roadblocks, find the root cause of those problems. The root cause is the real reason, the initial why of the problem. If you are actually going to solve a problem identifying the cause and putting a correction in place is critical. Once you or the plan is properly reoriented, it is time to repeat the process: write it down, take action, reevaluate, rinse and repeat.
For Monthly Updates Enter Your Email Below